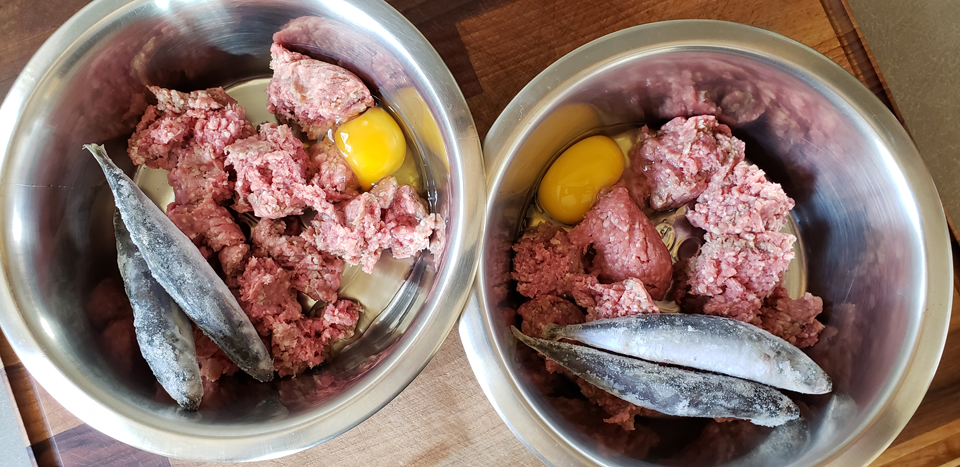 Fin (Siberian Husky) is almost four years old now and I'd like to think for the most part she's eaten a balanced and healthy diet. For the most part I believe that to be the case however she's intermittently always had an issue with scratching and an occasional mouth sore. Her diet consisted mostly of Instinct Original Kibble (Chicken) and a mixture of raw chicken, fish, beef, and eggs.

Over the years she'd occasionally have a mouth sore and scratch often. Numerous inquiries to our vet insisted it was fleas and that we should buy flea medication to remedy, however he was never able to show us an actual flea on Fin. We ultimately ended up changing vets to be told that she's lacking probiotics and should supplement her diet. For the time being we held off.

A few months ago we added Wofie (Siberian Husky) to our family and noticed after a few months he too was scratching just like Fin! Could the two be related?

At first I thought it was the beef we were giving them since she had an outbreak during a diet of strictly Nature's Variety kibble and beef over the course of a month. We decided to eliminate all raw, treats, etc. and focus strictly on a diet of Nature's Variety Kibble (Chicken) to determine root cause. The issue got worse! Below are the ingredients of the kibble.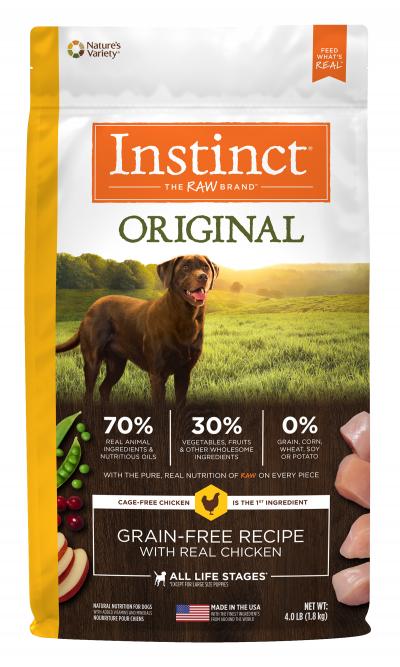 Instinct Original Kibble (Chicken) by Nature's Variety
Chicken, Turkey Meal, Chicken Meal, Peas, Chickpeas, Chicken Fat (preserved with Mixed Tocopherols and Citric Acid), Salmon Meal, Chicken Eggs, Tapioca, Dried Tomato Pomace, Natural Flavor, Menhaden Fish Meal, Vitamins (Vitamin E Supplement, Niacin Supplement, L-Ascorbyl-2-Polyphosphate, Thiamine Mononitrate, d-Calcium Pantothenate, Vitamin A Supplement, Riboflavin Supplement, Pyridoxine Hydrochloride, Vitamin B12 Supplement, Folic Acid, Vitamin D3 Supplement, Biotin), Montmorillonite Clay, Carrots, Apples, Cranberries, Salt, Minerals (Zinc Proteinate, Iron Proteinate, Copper Proteinate, Manganese Proteinate, Sodium Selenite, Ethylenediamine Dihydriodide), Potassium Chloride, Freeze Dried Chicken, Choline Chloride, Freeze Dried Chicken Liver, Pumpkinseeds, Freeze Dried Chicken Heart, Dried Bacillus coagulans Fermentation Product, Rosemary Extract.
With the newly learned information we decided to switch kibble with hopes to fix Fin's allergies. After research we selected Six Fish by Orijen. Below are the ingredients.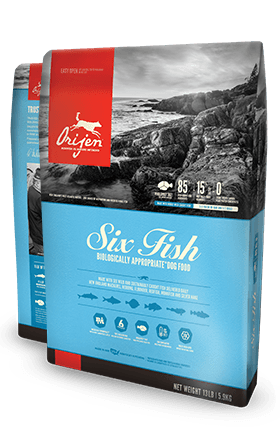 Six Fish by Orijen
Whole atlantic mackerel, whole atlantic herring, whole atlantic flounder, whole acadian redfish, atlantic monkfish, whole silver hake, mackerel meal, herring meal, blue whiting meal, herring oil, whole green peas, whole navy beans, whole red lentils, alaskan cod meal, pollock meal, sunflower oil, whole yellow peas, whole pinto beans, whole chickpeas, whole green lentils, lentil fiber, natural fish flavor, safflower oil, freeze-dried cod liver, whole pumpkin, whole butternut squash, kale, spinach, mustard greens, collard greens, turnip greens, whole carrots, whole apples, whole pears, dried kelp, pumpkin seeds, sunflower seeds, zinc proteinate, mixed tocopherols (preservative), copper proteinate, chicory root, turmeric, sarsaparilla root, althea root, rosehips, juniper berries, dried lactobacillus acidophilus fermentation product, dried bifidobacterium animalis fermentation product, dried lactobacillus casei fermentation product.
After a few months of strictly Six Fish there was improvement, however the symptoms still persisted in lesser form. Fin's left ear ended up getting a yeast infection which made us review her diet. Carefully reviewing the ingredients of both kibbles led us to common ingredients such as peas and beans. The problem with kibbles is how they are manufactured. In order for the kibble to take shape and maintain any reasonable shelf life they need a binder to keep the ingredients together in stable form. It doesn't matter how good the main ingredients are if the binders have ingredients that affect the dogs health. It's these binders we believe to be the root cause of allergies for both Fin and Wolfie.

We then eliminated kibble from their diet and strictly feed them raw fish, chicken, beef, eggs, and fresh vegetables. Two weeks later all the symptoms were gone! Fin is mouth sore free and both no longer consistently scratch! We're going to keep an eye on their diet however the results so far look promising! We'll keep you posted.
Seattle, WA.