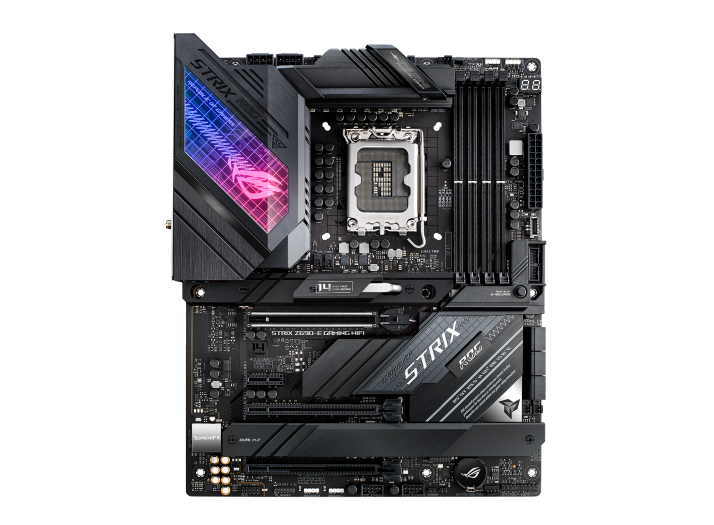 Due to the potential risks of the ASUS MAXIMUS Z690 HERO motherboard catching on fire I built this temporary rig until ASUS figures out the problem. The Z690 HERO is definitely a nicer board. If I didn't have a wife, children, and dogs I would have probably kept running it. Below are the details of the build.

ASUS ROG STRIX Z690-E GAMING WIFI Configuration
Update the BIOS from Version 0503 to 0811.
Configure initial BIOS settings to load Windows 11.
Boot

CSM
Secure Boot

OS Type: Windows UEFI mode
Secure Boot Mode: Custom
Restart and load Windows 11 for the first time.
Upgrade Intel ME Consumer Firmware from 16.0.0.1423 to 16.0.15.1605 (automatic restart).
Upgrade ALC4080/ALC4082 firmware from 4.501.0000-0013.0000 to 4.501.0000-0020.0000.
Upgrade USB PD controller to Version 004.
Reinstall Intel Chipset Driver Version 10.1.18838.8284 (automatic restart).
Reinstall Intel MEI Driver Version 2131.1.4.0 (automatic restart).
Install Intel Serial IO Driver Version 30.100.2131.26 (automatic restart).
Install Intel Thunderbolt Driver Version 1.41.1229.0 (automatic restart).
Install Realtek USB Audio Gen2 Driver Version 6.3.9600.2307 (automatic restart).
Configure BIOS for overclock.
Ai Tweaker

Ai Overclock Tuner: XMP II
Intel(R) Adaptive Boost Technology: Enabled
ASUS MultiCore Enhancement: Enabled - Remove All limits
Performance Core Ratio: AI Optimized
Efficient Core Ratio: AI Optimized
Advanced

PCI Subsystem Settings

Re-Size BAR Support: Enabled

Run the Qfan Control to profile the fans (I don't run AI Suite 3).
This netted me a 71% overclock (5.5 GHz).
Notes
Noctua NH-D15 wouldn't fit in the horizontal direction so I had to install it vertically (airflow goes from bottom to top).
Coming from an ASUS ROG MAXIMUS Z690 HERO I was disappointed to see only one USB 3.2 Gen 1 header.
I get the feeling this motherboard has USB issues. When trying to connect a Xbox Wireless Adapter for Windows via a USB hub it throws an error. My mouse froze twice through the same USB hub. On the Z690 Hero and previous build this was never an issue. I'm still testing and will update as I learn more.