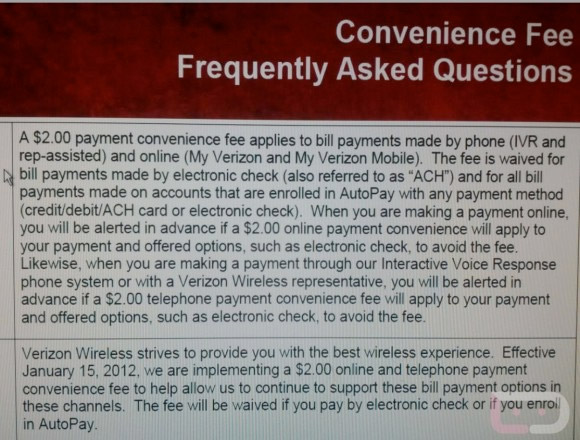 You are looking at Verizon's latest money grabbing scam! Get ready to pay 2 extra dollars a month. That is unless you pay by AutoPay or electronic check, which bypasses the credit card fee's passed on to the carrier. I'm sure for most this will be a non issue. I guess I'm in the camp that believes that having to pay a fee to pay your bill is kind of ridiculous. I'll patiently wait for other corporations to follow suit. Check it out!

Engadget
geek.com
DroidLife
npr
Engadget - Verizon's $2 convenience fee inconveniences the FCC
The Consumerist
The New York Times

Update: That didn't take long. Looks like Verizon is back backpedaling at full speed.
Verizon Wireless has decided it will not institute the fee for online or telephone single payments that was announced earlier this week.
The company made the decision in response to customer feedback about the plan, which was designed to improve the efficiency of those transactions. The company continues to encourage customers to take advantage of the numerous simple and convenient payment methods it provides.

"At Verizon, we take great care to listen to our customers. Based on their input, we believe the best path forward is to encourage customers to take advantage of the best and most efficient options, eliminating the need to institute the fee at this time," said Dan Mead, president and chief executive officer of Verizon Wireless.