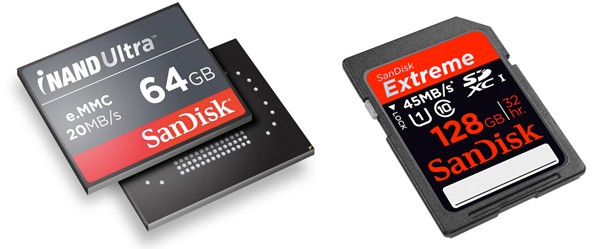 The new cards by SanDisk come in your choice of 64 or 128GB. SanDisk claims that these cards are capable of 45Mb/sec. and that they are the fastest in the world. Funny considering their Extreme Pro line of cards are about double of that. =)

Press Release
Can capture up to 10 hours of Full HD 3D video-enough capacity to film an entire day at the Consumer Electronics Show

Features up to 45 megabyte per second read and write speeds for faster shot-to-shot performance and quick data transfers

Shipping worldwide in 64GB and 128GB capacities carrying MSRPs of $199.99 and $399.99 respectively

Video Recording Drives Growth of User-Generated Content

Advanced DSLR cameras and HD camcorders enable imaging enthusiasts to capture Full HD 1080p videos, even in 3D. According to IDC3, user-generated video from digital cameras and flash memory-equipped camcorders will increase more than 50 percent, from 4 exabytes in 2011 to 6.8 exabytes in 2014.

"Consumer video capture is driving user-generated content creation," said Chris Chute, research manager, worldwide digital imaging solutions, IDC. "This is the first year that more than half of all video captured will be in HD, and that number is set to reach nearly 80 percent in 2014. This trend highlights the need for memory cards that are fast enough to handle a massive data flow while offering enough capacity to store the resulting files."

The 128GB SanDisk Extreme SDXC UHS-I card is based on the new Ultra High Speed (UHS-I) architecture and is designed to capture hours of top-quality video footage. The card's UHS Speed Class 1 rating surpasses the recording requirements of demanding video use cases-from home movies captured on a DSLR to high-quality 3D footage.

"Five minutes of Full HD video can consume one gigabyte of storage space," said Susan Park, director, product marketing, SanDisk. "Our new SanDisk Extreme SDXC card can capture up to ten hours of Full HD 3D video, enough to film an entire day here at the Consumer Electronics Show."

The SanDisk Extreme SDXC UHS-I card is designed to help imaging enthusiasts shoot like the pros, with the speed and capacity needed to capture not only high-quality videos but also high-resolution RAW JPEG photos, which can reach up to 30 megabytes in size.

Faster Shot-to-Shot Performance, Faster File Transfers

The SanDisk Extreme SDXC UHS-I card features up to 45MB/sec read/write speeds4, enabling photographers to capture sequences of high-resolution photos using their camera's burst mode and then quickly transfer the files to a computer.

The card's fast shot-to-shot performance lets photographers capture the images that matter most to them-whether using a point-and-shoot camera to take photos of a young child's first steps or a DSLR to capture a high school track star racing across the finish line. The card's fast file-transfer speed lets photographers offload an hour-long Full HD video in five minutes or a batch of 500 high-resolution photos in as little as one minute5.

The SanDisk Extreme SDXC UHS-I card is backed by SanDisk's reputation for quality-professional photographers trust SanDisk. The card provides consumers with the reliability and durability they need to capture photos anytime, anywhere, and includes a built-in write-protect switch to help prevent accidental data loss. For added protection, the card includes a one-year downloadable offer for RescuePRO® Deluxe data recovery software (a $59.99 value), which can bring accidentally deleted images back to life.


Pricing and Availability

The 64GB and 128GB SanDisk Extreme SDXC UHS-I cards are shipping worldwide with MSRPs of $199.99 and $399.99 respectively.